In het rapportenmenu vind je diverse rapporten, waaronder LISL-rapporten in een modern of klassiek formaat, met of zonder NDT/PHWT-kolommen (zonder: om twee vakken te creëren waar tijdens prefab heatnummers in worden verwerkt) en een LISL-blanko sjabloon. Daarnaast is het mogelijk om een rapport "Visuele inspectie" te maken voor één las of meerdere lassen, of bijvoorbeeld voor zowel shop- als veldwerk. Zie hieronder voor meer details.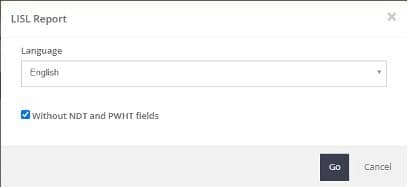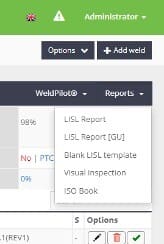 De kolom 'Vi' geeft aan of er al een rapport bestaat voor las 01 en 02. Puntjes … geven aan dat er nog geen resultaat is, terwijl 'A' aangeeft dat de visuele inspectie goedgekeurd is.
Het rapport "ISO Book" is het meest uitgebreide rapport met veel verschillende varianten. Een ISO Book (werkmap) voor prefab is inhoudelijk anders dan die voor veldwerkzaamheden. Gebruik de optie voor documentselectie om een werkmap met geselecteerde documenten te genereren.